ADUs as a Development Opportunity: Unlocking New Rental Income and Property Value
While many Cottage accessory dwelling units featured on the website were built for individual homeowners, many others have been for property investors looking to add to their existing properties.
On paper, the value proposition is straightforward: add one (or more) units to existing properties to unlock additional rental income and higher property values while minimizing the cost and complexity of the build. However, for most investors, the prospects of managing feasibility, design, permitting, and construction is time-consuming and difficult to scale alone.
Cottage is here to step in as the turnkey ADU solution for property investors. By managing the process from start to finish, the Cottage team takes away the hassle of investing in your property's full potential.
From A-to-Z, that looks like:
Cottage experts who have walked hundreds of properties like yours
Cottage architectural designers specializing in ADUs paired with templated designs
Cottage Permit specialists dedicated to getting plans approved in record time
Cottage construction partners specializing in ADU construction
Cottage Delivery team monitoring key construction milestones and ensuring Cottage is the main point of contact during the build
ADUs Booming in Berkeley
Local property investor Harmol came to Cottage hoping to build multiple ADUs on an existing multifamily lot located near the Berkeley Marina. Harmol's main priorities were to increase the property's rental income potential and raise the equity value, while also adding to the city's low housing stock. Cottage stepped in from the very beginning to check off all those boxes.
"My whole ADU strategy went hand-in-hand with Cottage."
"My whole ADU strategy went hand-in-hand with Cottage," Harmol explained. "Cottage was really good at walking me through city guidelines—what's feasible and not feasible—and Cottage didn't oversell me on anything."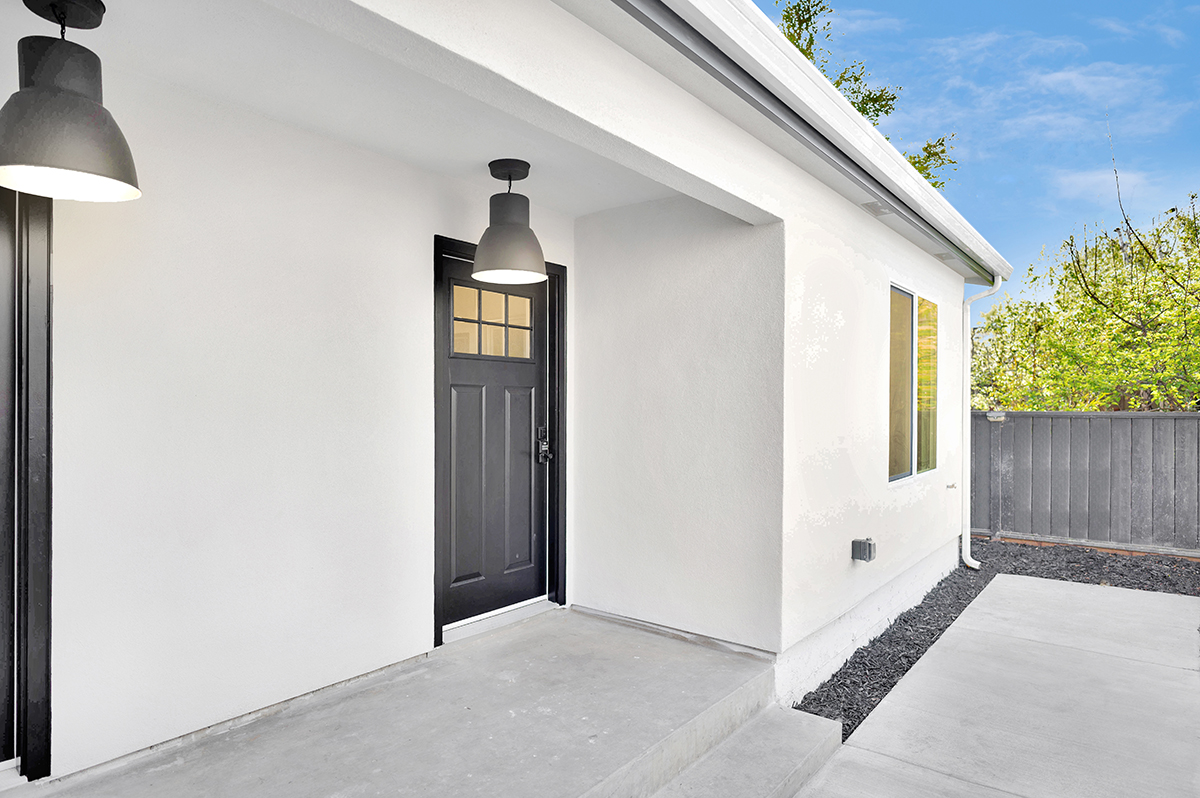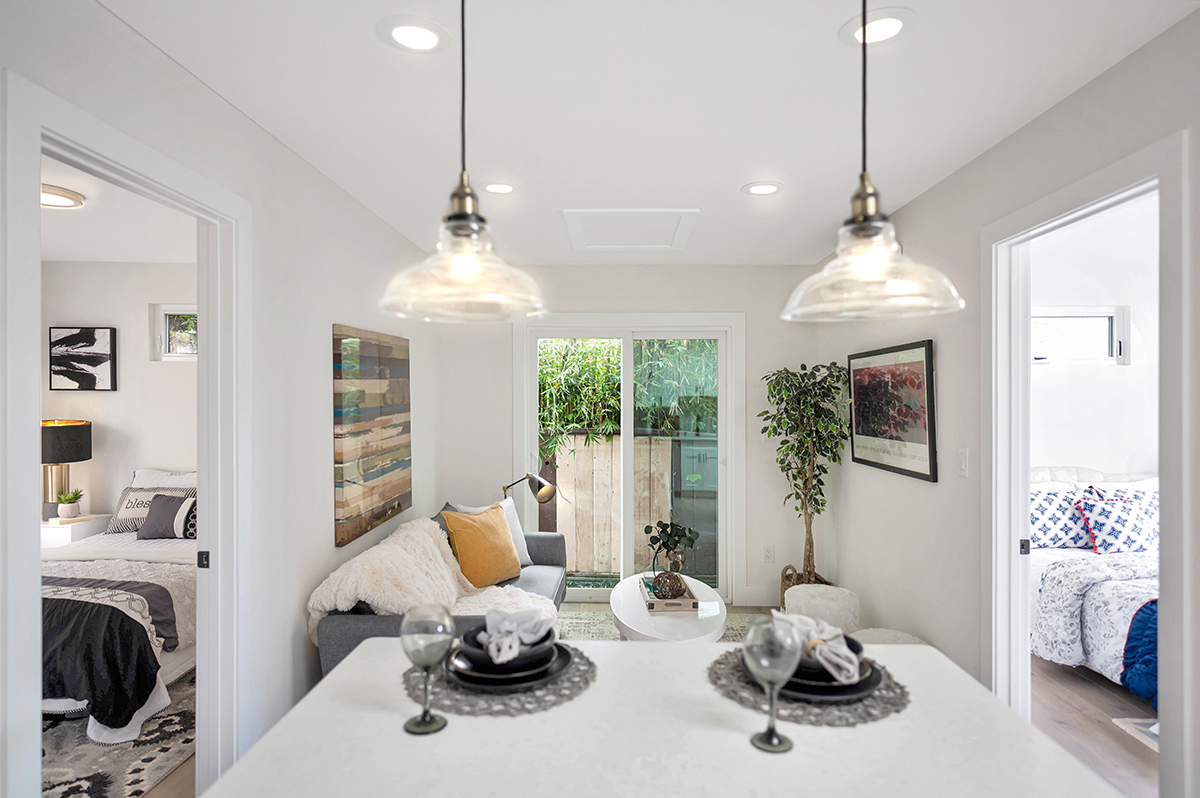 ADU Design, Tailor-made to the Property
The Cottage Design team designed two units, each at 578 square feet (1,156 total square feet) and each including 2 bedrooms and 1 bathroom (4 bedrooms and 2 bathrooms total), to be attached back-to-back to maximize livable space while minimizing project costs.
Because many renters in Berkeley are students, having a duplex ADU that felt inviting and communal was another important consideration for the project from the very beginning. This was reflected in the mirrored unit floor plan design that shared a wall. This brought down the costs of construction while ensuring that the duplex units maximized the full lot space. Compare this with prefab or modular ADU alternatives, which would have been limited to two separate and smaller units with wasted space between them.
Cottage was able to put together the preliminary design for Harmol to review and give feedback on with a quick turnaround time, while providing our ADU expertise to value engineer the design as much as possible, which saves Harmol on construction costs.
"My ADU all comes down to speed of execution and efficiency," Harmol said. "That has all been there with Cottage."
While modular ADU or prefab ADU companies are limited to having separate units that require setbacks between ADUs and are less cost efficient, Cottage took a different approach from the start.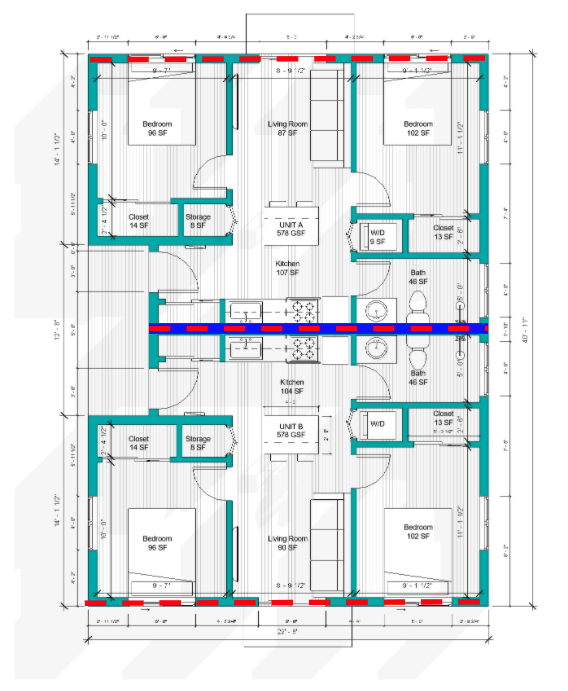 The design team laid out a duplex floor plan with a shared plumbing wall (highlighted with the blue line below) and a mirrored design that minimized the number of ridge walls (dotted red lines below).
With this plan, Cottage was able to significantly reduce framing, plumbing, roofing, and foundation costs for the ADU, with the savings passed directly to the homeowner. These design details fulfilled the property owner's desire for two space-efficient, cost-efficient, and maintenance-efficient rental accessory dwelling units.
"If I had gone with a different provider and they had said, 'These are the five model units we offer, either they do work or they don't,' those kinds of things are annoying to me," Harmol told us. "If my ADU provider starts telling me I can't build an ADU because the driveway is 9.8 feet wide and the ADU needs 10 feet to get to the backyard, that doesn't work well. You need to come in as the problem solver, and not someone who is adding problems to make my investment tougher to close, and that is the deal breaker for most other ADU providers."
Maximizing Rental Income Potential with Effective Finishes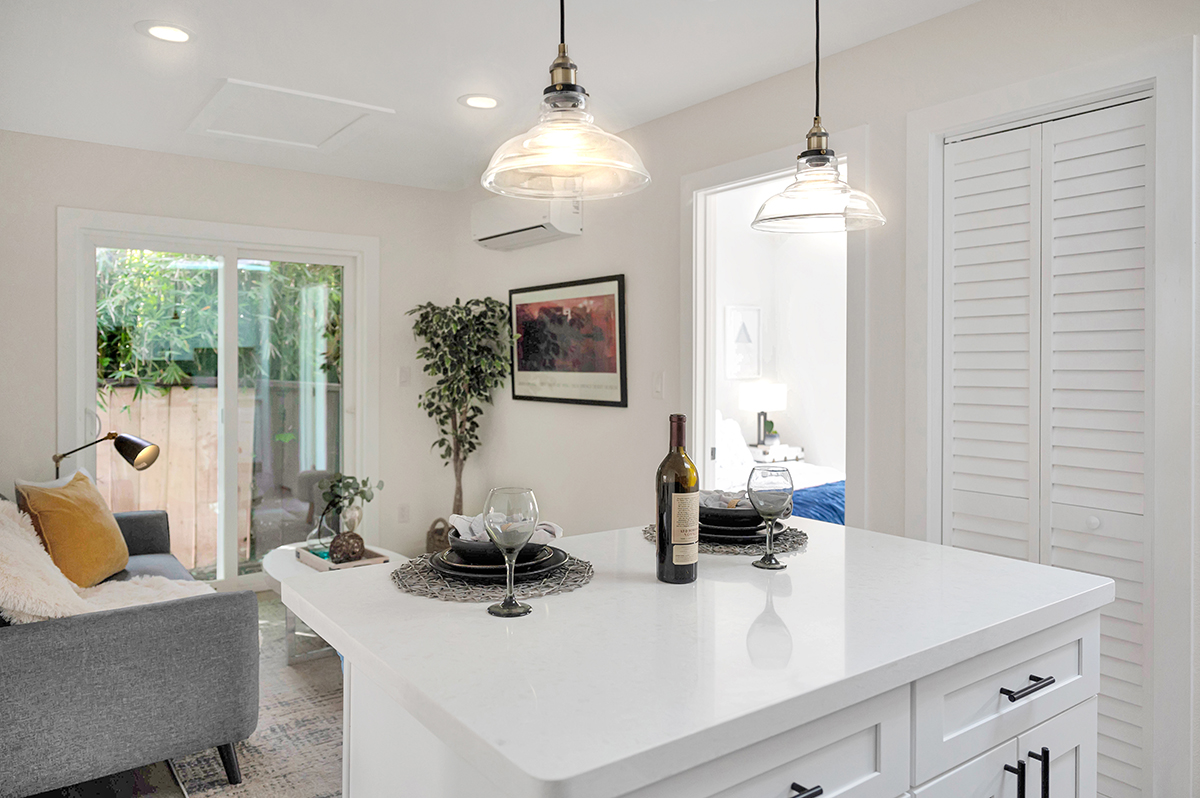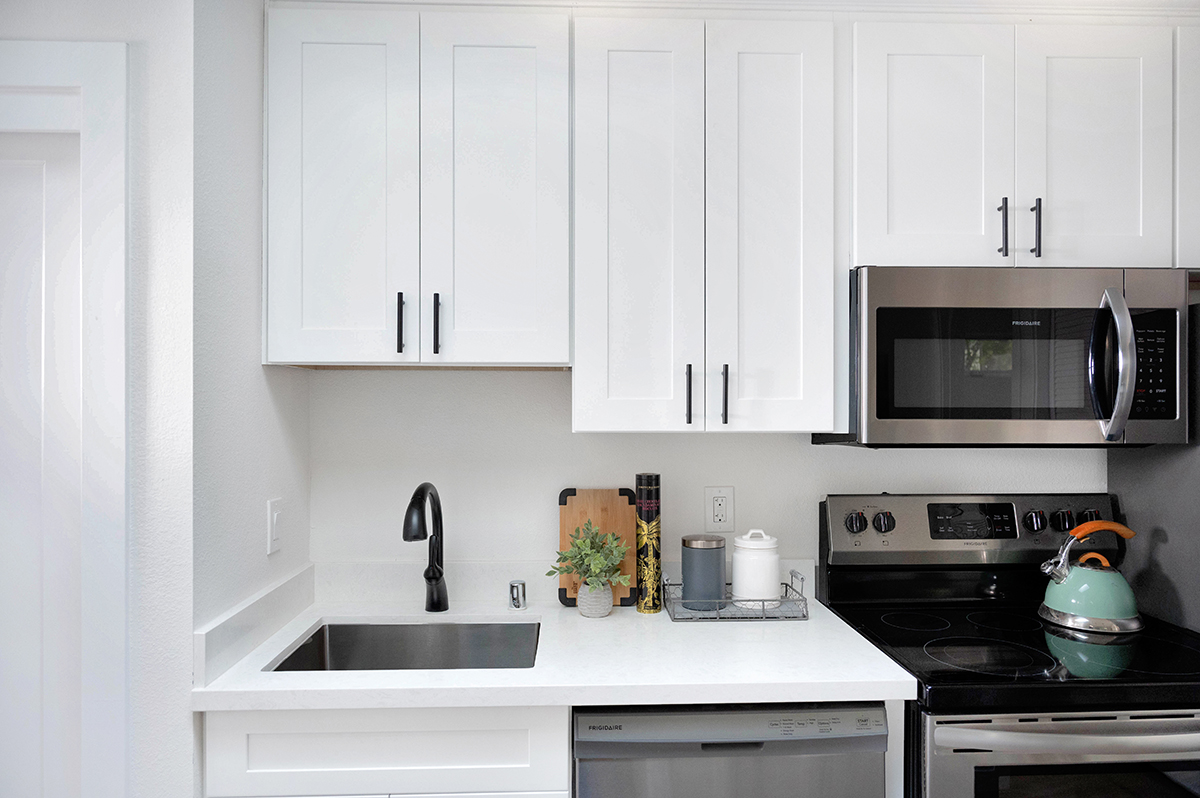 Building a rental ADU or even two rental accessory dwelling units like this design does not mean you need to sacrifice on quality. The front door of each unit opens to a spacious open floor plan kitchen and living room space, and each rental ADU unit has plenty of room for a full-sized couch, table, and TV area. A kitchen skylight placed close to the entryway hallway and closet lets in additional light to make this Cottage feel like home, rental ADU or otherwise.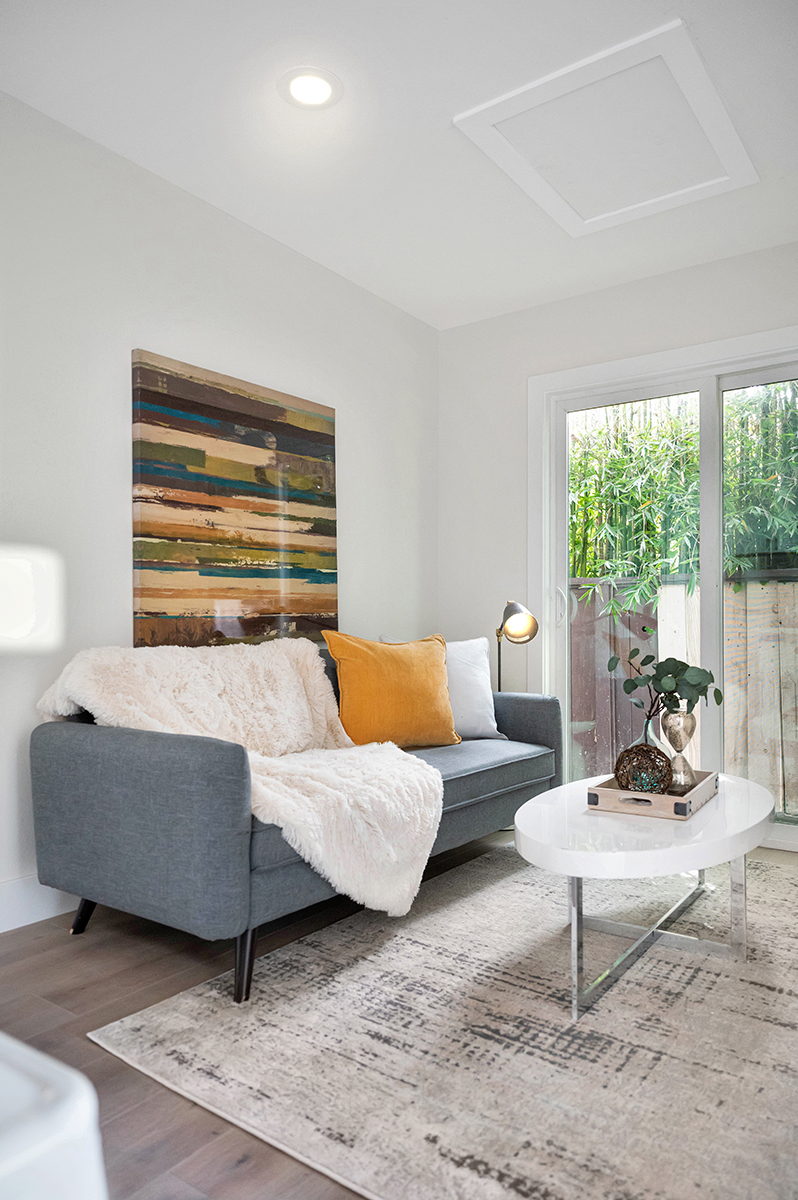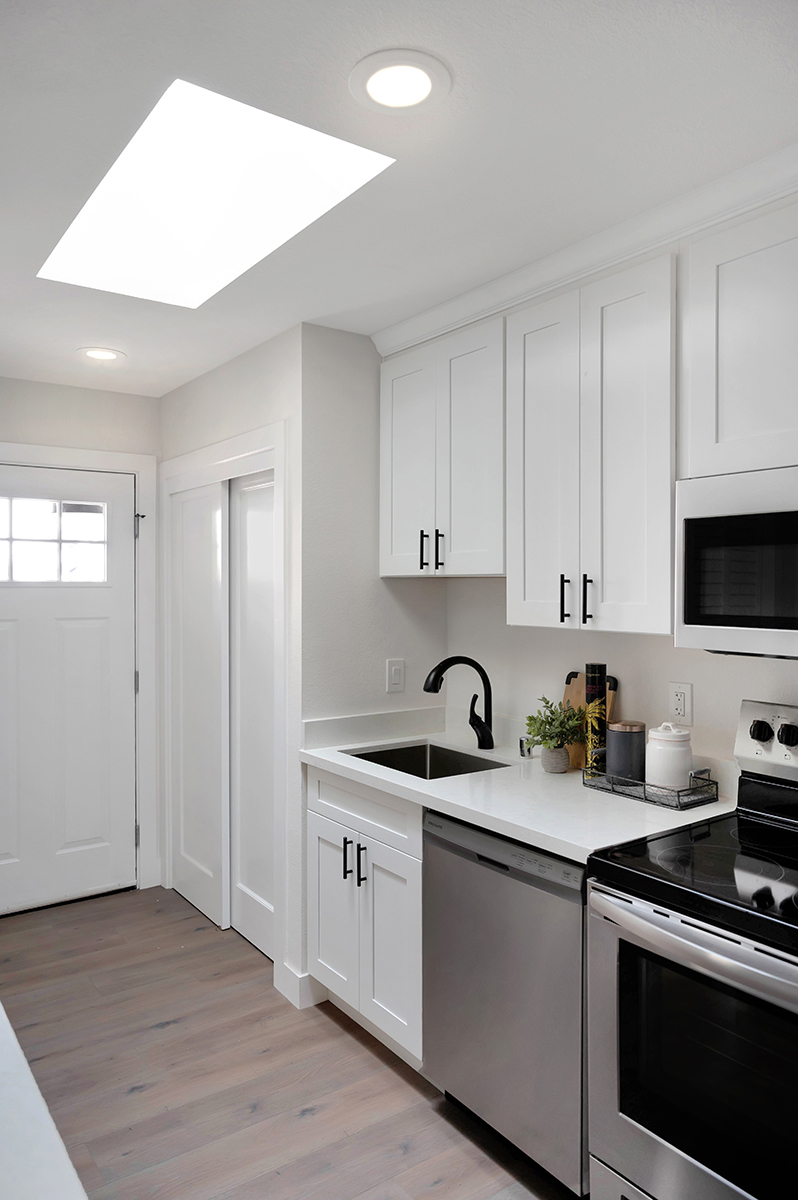 Other finish choices, such as those in the bathrooms, can increase the rental income potential and value of the property. The property owner decided to invest in an upgraded bathroom space for both units, with features such as wall to ceiling tile, a zero threshold walk-in shower, and high shower windows for great air flow and ample natural light. These custom options were important to Harmol from the start, and Cottage was able to meet his needs for the custom, site-built ADUs.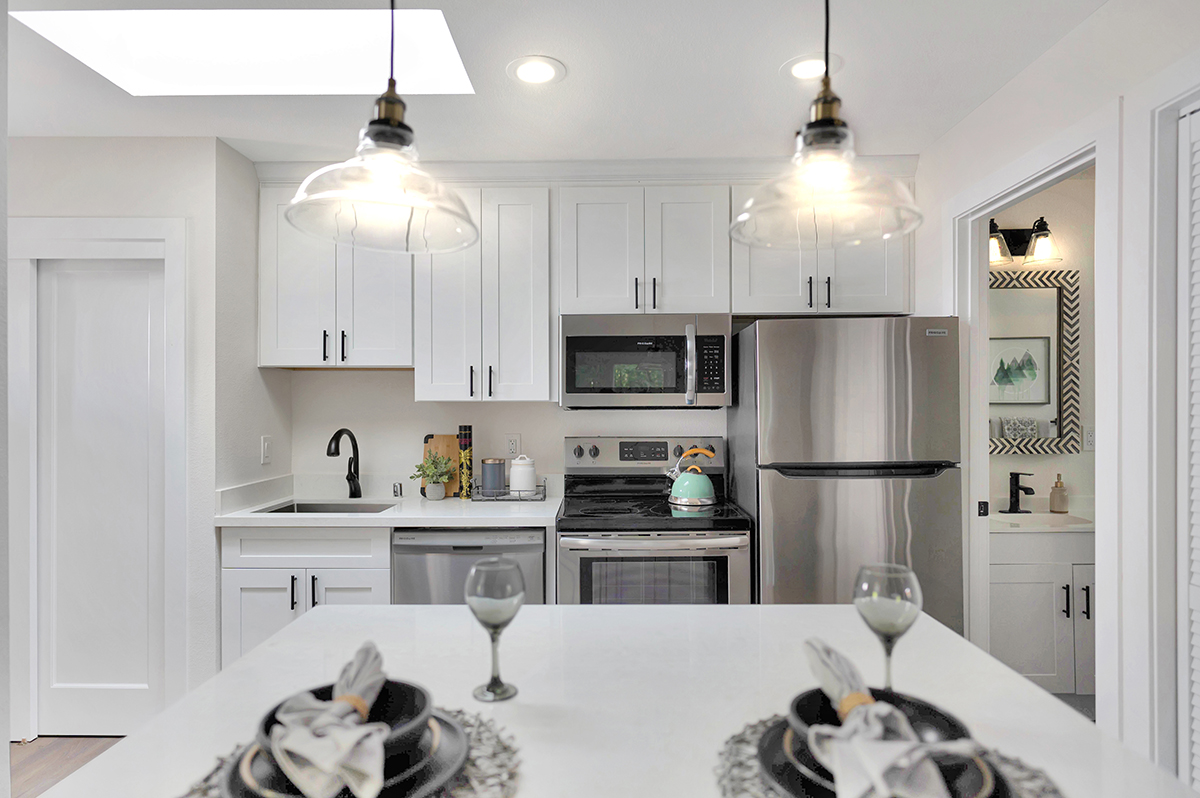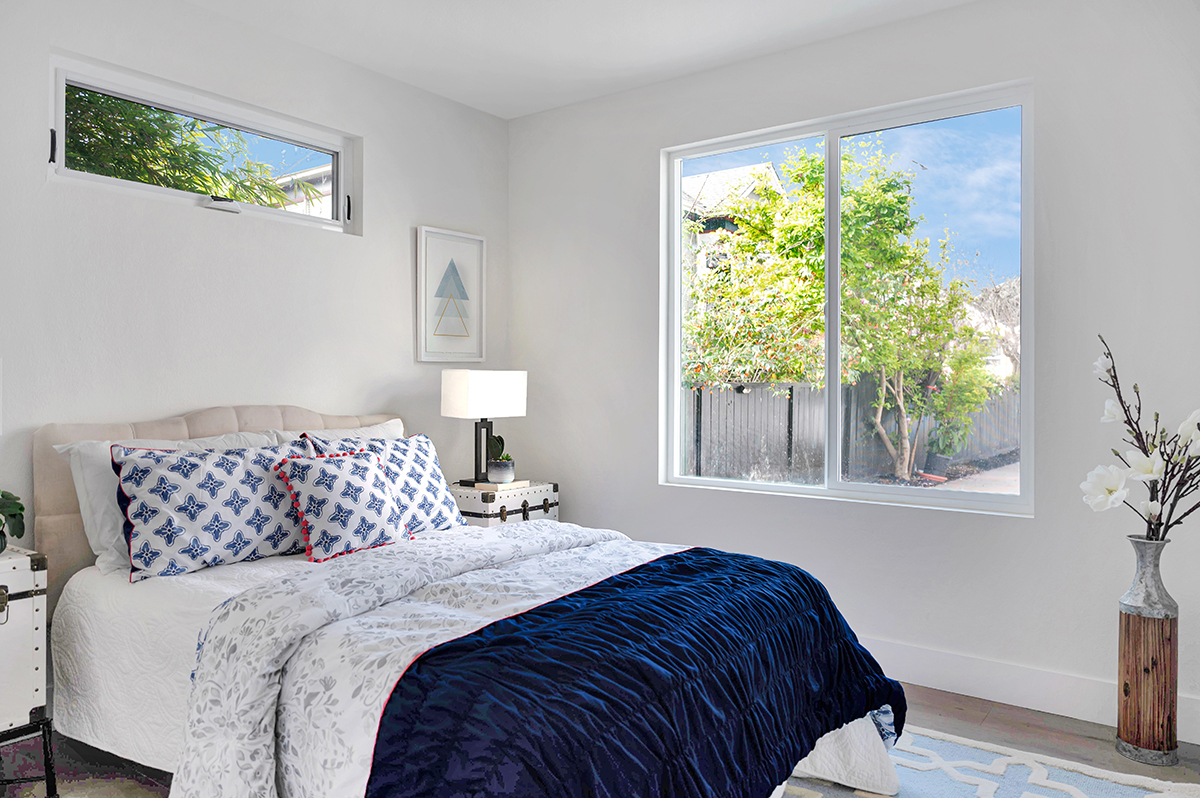 "The fact that Cottage can tailor the ADU to each person's preference, each lot, and each home - that is crucial," Harmol said. "That's where Cottage brings value."
Building ADUs for Owners and Investors For Maximum Returns
The Cottage team has worked with property owners and investors across the Bay Area interested in adding one or more ADUs to their existing home or multifamily complex. From San Jose ADUs added to the existing single family home to Oakland ADUs added to a previously eight-unit apartment complex to multiple ADU garage conversions at a multi-family residence property in Los Angeles, the Cottage team can help you decide whether ADUs make sense for you and your properties.
Are you interested in adding rental income while significantly increasing your property value and cash flow with one or more ADUs? Contact us today using the link below for a Free, No-obligation Consultation & Estimate with one of our ADU experts!