ADUs: Unlocking Room for More
Check out the in-progress foundation pour, framing, and trusses being place!
Like many homeowners, Saratoga homeowner Abhishek had long stared out at his backyard wishing he could do more with the unused space. More room for his family. Better use of the property.
And up until a few years ago, there were not any easy options. Expanding his existing home deeper into the yard would have required local design review and months—if not over a year—of permitting hassle, while paying for full landscaping would not solve his family's need for extra space.
Enter the landmark 2019 California ADU legislation
Assembly Bill 68
, which legalized Accessory Dwelling Units at the state level and has paved the way for thousands of units across the state. Suddenly, Abhishek and his family had a clear path towards building more room for his family.
"What this ADU accomplishes is that it helps me bring my family closer—it also improves the utilization of the investment I have made in the main home," Abhishek said. "It would be nice if I could do more than what I was doing before, so [the ADU] increases the utility of the property."
A 1,200 sq.ft. Detached Cottage ADU for Family
Abhishek and his wife had searched and searched for the right team to build his detached Accessory Dwelling Unit (ADU). Vague quotes would come in: $700 a square foot, $900 a square foot, but nothing concrete. Still others were unwilling to quote a price.
Abhishek turned to prefab ADU options next—but the quoted costs were still high, and Saratoga's ADU regulations and design requirements meant there would be no time savings for a cookie-cutter modular ADU unit.
"I think there is a point of inflection where you say, 'I am committed to this project and this looks very good, and we are going to get it done,'" Abhishek said. "I think in this case, the point of inflection came in after Cottage was involved."
After stumbling upon Cottage via Google search, Abhishek spoke with the Cottage team and had an in-person site visit within a week. The Cottage design team then quickly iterated through the floor plan with Abhishek and his family before getting his sign-off for the general contractor to estimate.
Now as of March 2022, the ADU is under construction and making quick progress. All the more important for Abhishek's large family and parents living with him, as well as other family members needing to move into the ADU as soon as possible.
Searching for the Right ADU Builder
Even before Accessory Dwelling Units were going by that name, Abhishek had heard "rumbles" of a new regulation back in 2019. He had long known he wanted to use his wide open backyard space instead of simply leaving it as an open lot.
Once he heard about ADUs in his local Nextdoor community, he knew it made sense to explore that path.
"There were two buckets of people building ADUs—one was people who had already designed the ADU [as prefab units] and were merely going to install it on your property," Abhishek said. "And these ADUs universally looked like an alien landed on your lot… and it turns out that after talking to quite a few of them, that there wasn't a win on price either."
"So prefab didn't work: it wasn't cost-efficient, it wasn't time-efficient, and it didn't get me what I wanted."
The second bucket Abhishek considered were traditional local general contractors. However, the high quotes he got for his one-off ADU project were both expensive and weren't set in stone without a design.
Abhishek even turned to full-on single family home builders, since he was being told that the 1,200 sq.ft. ADU unit he wanted was basically a small home.
"The sense I got was that for people who build houses, especially custom ones, a 1,200 square foot project wasn't at the top of their list of priorities," Abhishek said. "They were looking to build bigger homes at 2,500, 4,000 square feet."
Frustrated but still determined to find a solution to his family's housing needs, he stumbled upon the Cottage website.
"So in the midst of all of this, I found Cottage via Google search, and it was a pleasant surprise because...the CEO himself was pitching," Abhishek said. "Every single thing he said was spot on in terms of where I was going to have trouble finding the right people, that there would be limited options to customize the prefab one-size-fits-all [units], and it would be a guessing game for how much the whole thing would cost."
The process moved quickly from from the initial eligibility and feasibility conversation to a site visit and design.
"I was exploring these guys who were telling me all these different numbers and stories....and this took maybe three, four months just talking to people and not getting anywhere," Abhishek reflected. "After we engaged with Cottage, it was clear that we were going to build an ADU and that Cottage was going to help us build it."
The Right ADU: Custom, Tailored, and Personal
After the initial ADU floor plan didn't quite fit what Abhishek was looking for, the Cottage ADU design team took his feedback to heart. The team came back with an elegant L-shaped design—this created a natural courtyard space between the ADU and the main home, perfect for entertaining, family gatherings, and enjoying the day outside.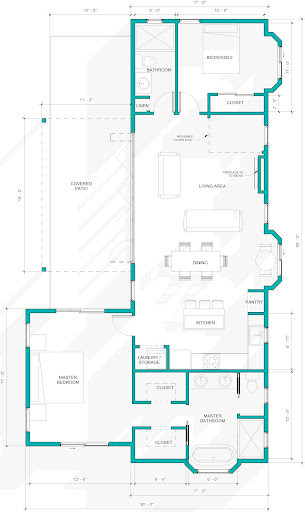 Abhishek's custom ADU floor plan was created with hosting family gatherings in mind.
"All-in-all it was a brilliant design….and to my surprise—a pleasant surprise—there were very few ways that I found that the bones of the design could be improved in any way," Abhishek said.
Wide La Cantina doors—an expensive addition but perfect for the courtyard space—open up into an open floor plan living, dining, and kitchen space. Complete with a dining room area and kitchen island, the space is perfect for Abhishek's large family.
The large master bedroom looks out into the courtyard while also providing a huge master bathroom and closet combined space. On the other side, the secondary guest bedroom sits directly next to the second bathroom for convenience while also keeping the central open floor plan area spacious and airy.
Bay windows—a nod to San Francisco Bay Area design sensibility—augment the dining room and the master bedroom, helping expand the backyard home to feel even larger than the square footage would suggest.
Like many Cottage homeowners, Abhishek wanted to ensure that his ADU fit his family's needs while also matching the main home for continuity. The Cottage custom design approach from floor plan to finishes ensured that the ADU would match his vision.
In addition to the thoughtful design, Abhishek also had the future in mind for his ADU.
Unlocking ADU Value and Future Resale Equity
While Abhishek and his family had been looking for space for some time before building their Cottage ADU, room for more wasn't the only factor weighing on the homeowner's mind. Because the finished and permitted ADU would add square footage to the property's title report—along with the additional bedrooms and bathrooms as well—the value of his property would rise as well.
"The ADU also adds to the value of the property in the future," Abhishek said. "When I eventually sell [my home], the ADU will still add a significant amount to the overall value...and in Saratoga, the prices are over $1,000 a square foot or even higher."
With his family members renting nearby, the ADU alternative would be to continue to rent another home in the area. But the rental payments would go towards someone else's mortgage, rather than towards an ADU built to last.
Accessory Dwelling Unit value is a topic that the Cottage team has
covered extensively
. 2021 sales of single family homes with ADUs has clearly shown that the housing market values properties with ADUs significantly higher. In addition, with more and more families looking for multi-generational residences and nursing home alternatives, properties with private and detached ADUs can command a significantly higher premium.
Before he committed to his ADU, Abhishek talked to the real estate agent who helped him buy the original home. Abhishek asked, "If you had to sell the house with the ADU later, how would you feel about it?"
The answer was simple.
"This is a no brainer. It's like printing money; go ahead and build it."
Ever since those conversations with friends, family, and the Cottage team, Abhishek hasn't looked back.
"[The ADU] made financial sense, it made family sense, and it ultimately made it another step in the pursuit of happiness," Abhishek reflected.
The Custom ADU Right for You
Abhishek and his family's ADU story is just one example of the many homeowners that Cottage is building custom, stick-built ADUs for.
Cottage builds custom, stick-built ADUs of all shapes and sizes for homeowners in the San Francisco Bay Area and beyond. Whether it's to move family closer to home or secure your own future, we're here to help you build the ADU that's right for you.
Click the "Get Started" button on the top right hand corner to get a Free Consultation and Estimate Today for your ADU project.